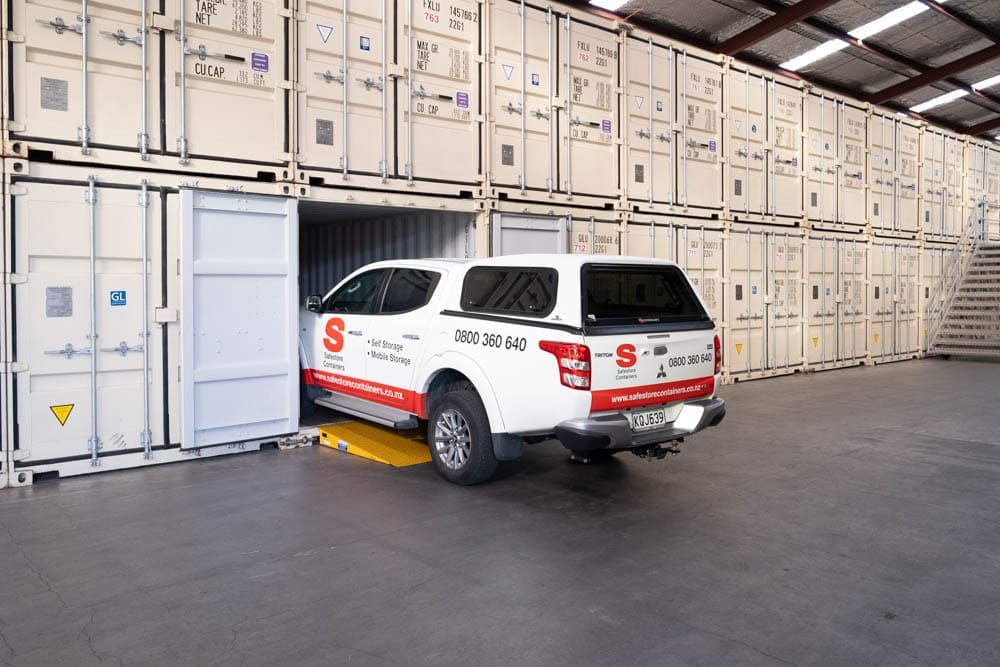 Self storage isn't just for personal use: it offers many advantages to commercial and business users as well. Reliability, safety and security are top considerations when choosing business and commercial storage options for your professional needs.
Businesses and commercial ventures of all sizes and shapes, irrespective of industry, use self storage as an excellent solution to problems posed by limited storage capacity. Self storage units provide additional space for everything from less-used supplies and overstock, to business paperwork.
Whether you are looking to declutter, downsize or even establish a brick-and-mortar space for your business, a self storage unit can come in handy. At Safestore Containers, we pride ourselves on being there for our customers, with knowledgeable staff on hand to answer questions, and our facilities come at the best possible price.
What is self storage and how will it help your business?
Self storage refers to a unit or multiple storage units available for rent. Self storage units come in a variety of sizes, allowing you to choose the right fit according to your specific business needs. All units at Safestore are vehicle-accessible, and swipe-card access grants you the ability to come and go whenever you need during our working hours, seven days a week. We make it easy to run your business.
What kind of businesses can use self storage?
Any business of any size can take advantage of self storage, from construction companies, to IT organisations, to educational institutions. Whether you are a burgeoning business that has outgrown its current premises and needs additional space to accommodate its growing needs or whether you are a newly launched company getting things up and running and are not yet able to invest in a dedicated office space, a storage unit from Safestore Containers offers you a secure place to store your property.
A storage space is ideal for important documents, your company's products (making a storage unit an extended arm of your business), the tools of your trade (especially useful for those in construction and contract employment for the overflow from your garage) and anything else you might need. Use a self storage facility to store business items when you don't have a brick-and-mortar office or whenever you are in need of extra space.
Advantages of self storage for business
Running a business means having a lot on your plate: a cluttered, overstuffed space where you struggle to quickly find what you need, or worse, where important files and papers are in danger of being swallowed up in the chaos is the last thing you want. Renting a storage unit helps you to declutter your office or commercial space and bring in some organisation, enabling you to work more efficiently.
Move older paperwork like copies of tax documents, invoices and purchase orders – things that you can't throw away for compliance reasons but don't need at your fingertips – to your self storage unit. Or if an increase in staff members working from home has left you with more office furniture than you currently need, a self storage facility can provide the temporary storage solution you need until you figure out your new business configuration.
Once you have organised your office space by relocating extraneous items to your storage unit, you will find it easier to quickly locate the important stuff. And since we offer quick and easy access to the units we rent out, you can visit your items at any time, be it to add more things, to reorganise or just to rummage through your stock.
Renting self storage spaces gives you peace of mind
The safety and security of the goods entrusted to us for storage is our top priority. When you rent business & commercial storage units from Safestore, you can be confident that your goods will be safe from physical harm as theft and malicious intent. Electronic gate passes allow us to exercise strict control over who has access to our self storage facility. Our security systems are up to date and regularly upgraded as required, and all our facilities have strong perimeter fencing. Your business self storage is in safe and capable hands when you rent with Safestore Containers.
Contact us today to find out how we make it easy; from supplying packaging materials, finding the right sized container, to giving you access to the site from early in the morning to late at night. We want to make your life as easy as possible, so you can get on with running your business.