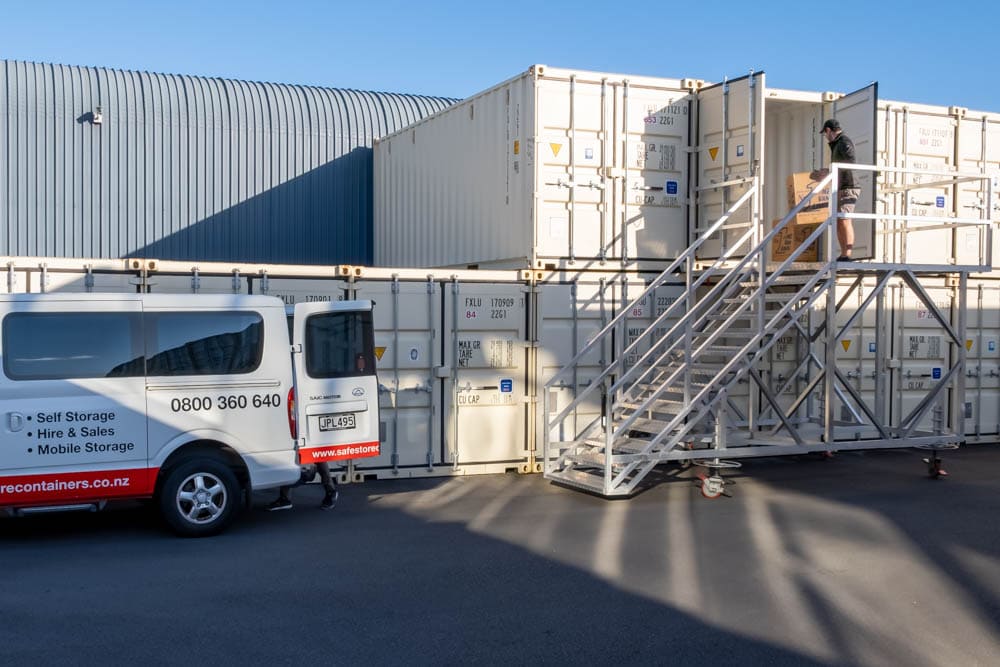 If you're moving house and need temporary storage, or you've got a shed-full of extra 'stuff' you need to store, come see us at SafeStore. You'll see why so many locals prefer to use our storage units in Auckland, NZ.
When you need to rent storage space, whether it is because you are moving to Auckland from another city, emigrating from another country, or downsizing and moving house, you want to have a safe storage facility where you can park your belongings. You've probably got a bunch of questions.
Can you find storage units in Auckland cheap? Will your possessions be safe? How can you access your stuff outside of business hours? This is where Safestore Containers comes in – we have different sizes of units to suit every need and budget, great security measures, and our friendly staff are available and waiting to help you make the right choice for your specific needs.
Something for every size and budget
At Safestore Containers, we have a range of options, as well as flexible month-by-month plans to suit every budget and offer affordable storage options.
We have something for you, whether you're a uni student looking for cheap storage options for your personal belongings for a couple of months, a family moving cities and needing to keep their household stuff in a storage facility, or even a business that has temporarily given up its brick and mortar premises and wants to safely store its office furniture and files.
We have commercial and business storage units for rent and different plans for you to choose from. And different sizes of units to suit your specific commercial or residential storage needs.
Easy access at a location close to you
We have our Auckland storage units in two different locations in the city, in Glendene and Onehunga. Which means you don't have to mission from one end of Auckland to the other to visit your stored stuff. And you can visit your belongings at any given time, at your convenience.
Our storage facilities are accessed securely with entry and exit from a swipe card activated gate. Wave your card at the reader, and drive up right to your unit – it can't get easier than that.
We take security seriously
We have safeguarded against unwarranted and unauthorised access with our state of the art security protocols, with each unit protected in addition to the swipe card restricted access to the premises.
When you store with Safestore Containers, good security is part of our promise to our customers. Storing your valuables and personal belongings with us means no surprises and no worries – just affordable and secure storage.
Our nice, helpful staff are on hand
Safestore Containers prides itself on having well trained, friendly and helpful staff who will be happy to answer all your queries – from what size storage unit you need, to how long or short a time you can store with us. They are happy to help our customers with access, payment, or any other queries.
Get in contact today and let us find the perfect storage solution for you!