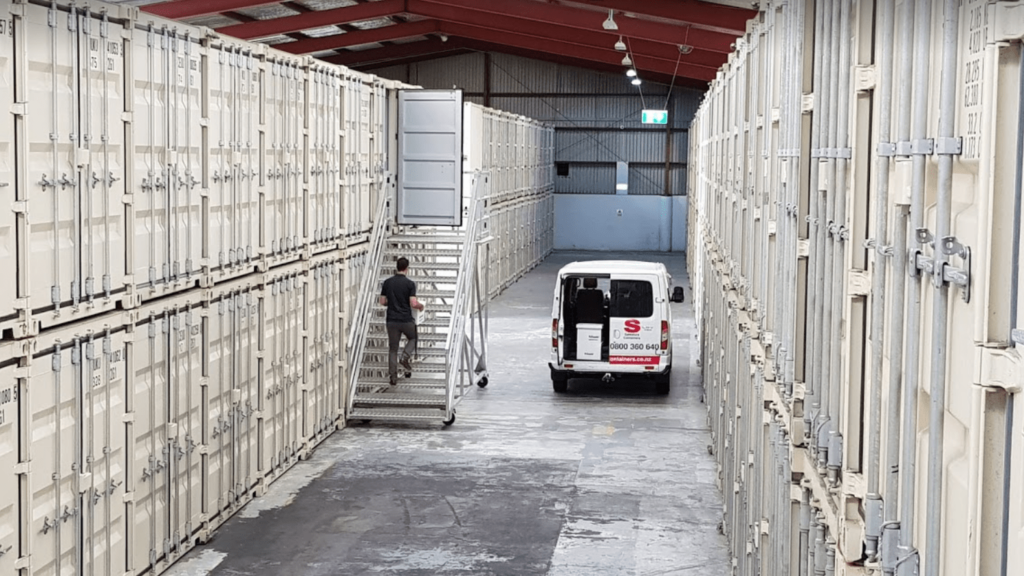 If you're looking for storage containers in Auckland, our secure, safe Onehunga facility offers a simple solution. Check us out and see why so many people use us for their shipping container hire and self storage needs.
Whether you're a builder needing a place to store extra tools and materials, a retail operation with bulk stock to store, or you are moving house and need to store a bunch of your household possessions, our Onehunga storage units give you flexibility, easily accessible storage facilities, and a unit size to fit every need.
Front security gate
From the minute you arrive, we make it easy for you to access your storage unit. Our facilities are accessed using a swipe card, offering easy entry anytime between 6am and 8pm, seven days a week. Our administration office is manned from 8am to 6pm, Monday to Friday, so if you have lost your card or need to speak to one of our friendly customer service team, there's plenty of time.
The area has security cameras so that you know you, and your goods, are safe 24/7, 365 days a year.
Exterior storage units
The first thing you'll notice about our storage facility is the wide driveways between the rows of units. This makes access to the unit easy, as you can simply drive up to your storage space. It's then a matter of unlocking the unit and unloading directly from- or to- your car, trailer or truck. There's no wasted time or unneeded walking or carrying heavy items.
Interior storage units
If you need more temperature-controlled storage units or you want to make sure your possessions are super protected from the weather, our indoor units are the part of our storage facility that will suit you. With options at ground floor or above, once again you can drive up to the door and unload with no unnecessary manoeuvring. As you are inside our warehouse, this means even on the stormiest Auckland days, you will stay dry as you load and unload.
Contact us today to view our Onehunga storage facility
Just 3km from the state highway, our South Auckland premises offer an easy-to-access facility to locals. With plenty of storage options, including a variety of sizes of units and the option of short, month-by-month contracts, we are flexible and happy to help.
We offer three storage unit sizes:
Small 2.4m x 1.5m
Medium 3m x 2.4m
Large 6m x 2.4m
For commercial storage, this gives you the freedom to use us only when you get your bulk Christmas stock in or when you have a big job. For individuals, it means you can store your household items here with no worries if you can't find your forever home immediately.
Give us a call. Many people highly recommend us, with plenty of happy customers who have appreciated our clean and secure premises and the variety of options for storage in Onehunga.
You can explore our Onehunga location in it's entirety on Google Maps here.