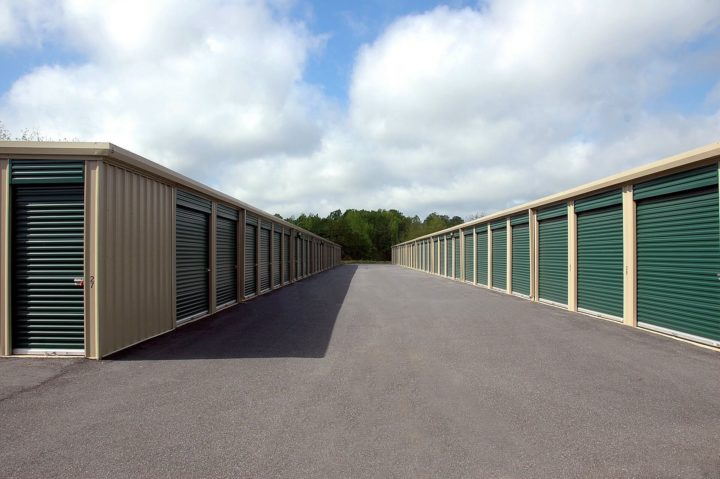 For most people, hiring a shipping container is definitely the easier option. But if you know your rental is long term and you may modify it, then buying is a wise choice.
Whether you buy or hire a shipping container depends on your circumstances. There are huge benefits to hiring containers, especially if you only need a short term option.
Storage
If you are using the container for storage, think long and hard about what's the best option for you. It makes sense to buy a container if it's a long-term or permanent storage facility. But you need to think about where you put this container—you'll need enough space for it on site somewhere.
If you only need short term storage, then renting is easiest- and you can usually rent a container off-site, so you don't have to worry about a container in your back yard or carpark.
These container-based storage solutions also offer an added bonus—they usually have high levels of security. While you can still access your possessions or stock 24/7, it's gated with pin-code access and plenty of security cameras. The storage areas have been designed to allow forklifts, pallet jacks, and good accessibility for large trucks. If the shipping container was sitting on your property, would it be this easy?
Do you plan to alter it in any way?
Shipping containers are incredibly versatile. They can be turned into offices, spare rooms, holiday homes and even permanent homes. In Christchurch after the earthquake, they were turned into shops and became the Re-Start shopping mall. They can have windows, doors and dividers installed. However, if your intention is to modify the container in any way, then you're going to have to skip the rental and buy one. No shipping container rental place wants it back with an additional window.
Shipping containers need maintenance
While not a huge regular expense, if your container is exposed to the elements, it will need maintenance of some form. Rain and moisture cause rust, which makes the container unsuitable for storage or transporting goods. You'll need to re-paint occasionally and remove any rust that appears. If you rent a unit, there's no maintenance costs or worries about water-tightness.
You need flexibility of size
If you have fluctuating stock levels or differing needs from one month to the next, then renting is easiest. You can change from small to large or extra-large units, depending on what you need. Similarly, you can hire more containers as you need them, and terminate the hire with very little notice.
If you need the container seasonally or for a particular event, then hiring it makes far more economic sense then buying and maintaining your own unit. Need dry storage for your boat over winter, or holding extra stock before Christmas? Renting is the answer.
You're not sure if a shipping container is the right option
There's no point buying a container if it's not going to work for you. Hiring a container, whether as part of a storage unit or on site, is a great way to trial a container and see if it performs all the functions you need.
How much does it cost to rent a 40 foot container?
A 40ft container can cost anything from around $2500 for a second hand unit to $8000 for a brand new one. And it is money that disappears straight away. If your bank is looking a bit light, this is a substantial investment. And although you can re-sell the container once you are finished with it, it will have dropped in value, particularly if you purchased brand new.
Rental of a 40 ft container can be as little as $200 a month. If you require it to be as part of a storage unit, costs do increase from there. But it is a much smaller initial outlay than purchasing a container outright.
How much does it cost to buy a 20 foot shipping container?
A 20 foot shipping container is cheaper than a 40ft unit, but there's still a large up-front cost. A second hand unit costs upward from $1500, while a brand new one costs about $4000.
Rental of a 20ft container is substantially less, with an off-site, secure enclosed unit costing about $200 a month. It's fantastic value for money when you consider you don't have to worry about security, finding a place to put it, or painting, waterproofing and maintenance.
Shipping containers are a great short or long-term solution for storage
If you are looking for storage solutions, it's worth checking out container hire prices. Whether it's short term or long term container hire, there are options available which make it economical and easy for almost any requirement. If you're looking for container hire in West Auckland or Onehunga, contact Safestore containers for a price.